The western ghats offer a range of landscapes for trekking and adventure activities, thus, providing for a big bucket list for trek enthusiasts. Sadly, the majority of such patches have witnessed degradation due to the commercialization and recent influx of trekkers and tourists.
Nestled in the heart of the western ghats, in the district of Chikmangaluru lies the Kudremukh, which, still untouched by commercialization, might remain serene for a long time to come.
Let us see what makes the trail of Kudremukh much more than any other ordinary trekking experience.
Biodiversity hotspot
The peak of Kudremukh is part of the Kudremukh National Park, which is the second-largest wildlife protected area in the western ghats and home to our National animal, Tiger. It is also a part of a continuous chain of forests with unique species of amphibians and thus can easily be referred to as a biodiversity hotspot. Such a hotspot can only be protected from degradation by adopting certain strict regulations on visitors, based on Leave No Trace (LNT) policy. Thus, along with a beautiful trekking experience, Kudremukh also offers a valuable lesson to all its visitors about outdoor ethics.
Only 50 trekkers:
Yes, you read it right! Kudremukh trek, being part of the Kudremukh national park, needs an exclusive permit and only the first 50 applicants of the day would be fortunate enough to get the permission to enter this paradise. Now, it is important to note that the dilapidation of any trail begins when there is no control over the number of visitors as it becomes very difficult to monitor the behavior of a big crowd.
A large group of people lead to a series of undesired effects like noise, multiple trail formation, human-animal conflicts, demand for stalls and washrooms etc.
Thus, by restricting the number of trekkers per day, the forest officials in Kudremukh have ensured to maintain the serenity of the forest and the trail for a longer period. Another interesting fact about Kudremukh is that the trail is completely closed for visitors for approximately 5-6 months a year i.e., from January mid to May, which further adds up to maintaining the poise of the forest.
Cleanest Trail of India:
Kudremukh, though being a highly approachable place, is one of the cleanest trails in India and mind it, I am not exaggerating here! 😉 Kudremukh trek does not require any technical skills and can be done by anyone with a basic fitness as well. Such an easily accessible place cannot be kept clean by mere limitation on the number of entrees. In certain forest areas, it is a general practice that a concerned officer would count the number of plastics in your bag during entry and exit. Well, Kudremukh takes it a notch higher!
At the entry to the trail, the concerned officer would diligently check everything in your bag and would require you to submit all the plastic items with him.
In other words, entering the forest with any wrapper or plastic is completely banned. It is thus highly advisable to carry any food items like energy bar, chips, etc., and water in reusable containers only rather than in a plastic bottle or some wrapper. In an era where filth can be seen even in the deepest valleys and highest mountains, Kudremukh ensures there is no scope left for any person to spoil the natural habitat of the forest.
For Kudremukh Itinerary – click here
Endurance:
Though the trail is not difficult, it is not recommended for people with a completely sedentary life. That said, the trek consists of 11kms uphill climb and then back, which equals to 22kms of total trek distance. As per the local rule of the forest, one needs to return to the base by 5pm, which leaves us with a rough 9 hours to finish the entire trail of 22kms. Sounds like some tough job, doesn't it? Well, might wanna start working on that long-lost fitness, folks! 😉
As we move ahead in the trek, the landscape changes from dense forests to grasslands to rolling hills, which helps in keeping the motivation levels high throughout the trek. Because the peak is in a protected zone, it is advisable to take a forest guide along in this trek. A word of caution, one might want to keep a watch for the leeches in the trail in the months of July and August.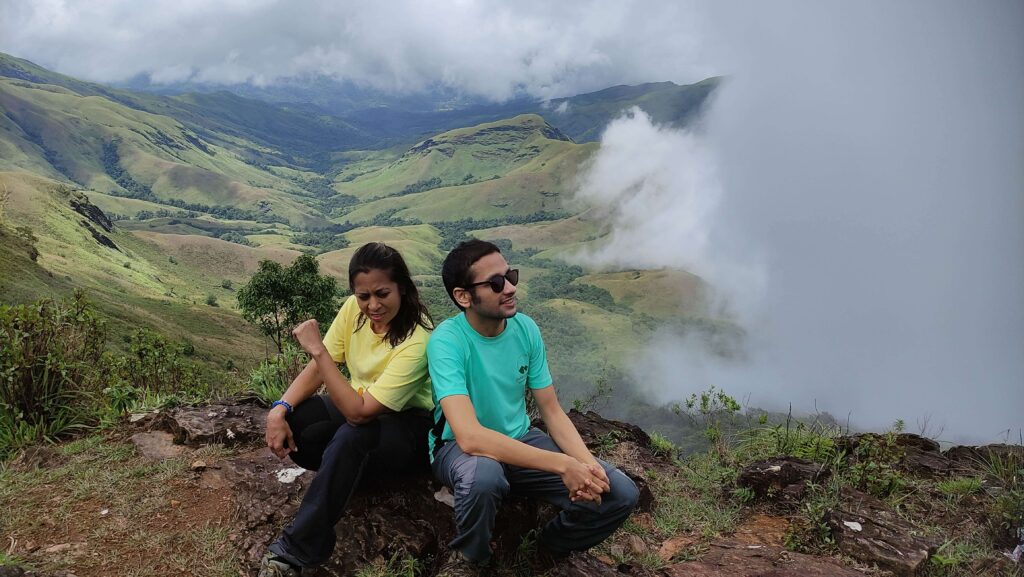 For Kudremukh Itinerary – click here
Natural springs of water:
A very fascinating part of the trail is the natural waterfalls and the small springs of water on the way to the peak, that serves potable drinking water throughout the uphill trail. These springs arise from sources untouched by human activities and thus are perfect for consumption. In today's world, it is a bliss to get such natural water and plus, it saves the effort to carry too much water during the trek.
Coffee and homestay:
Kudremukh is in Chikkamagaluru district of Karnataka, which is famous for its coffee plantations. The locals of nearby villages serve Bella Coffee, in which jaggery is used as a sweetener instead of sugar giving it a distinct flavor. While sipping coffee, you can also buy some locally grown spices.
The homestays are simple but well maintained. One might surely want to experience a local homestay before the trek and get a taste of the typical Malnad cuisine that is served in the region.
Generic info:
Altitude: 1892m

Nearby villages: Balagal; Mullodi; Samse

The nearest International Airport and major railway station is at Mangalore which is at a distance of 100 kilometres.

From Bangalore there are frequent buses to Kalasa town (approx 15kms from entry point)
Kudremukh Itinerary – https://wa.me/p/6185261794907803/919326393025