Zemithang is one of the most divine and yet less explored villages of India, located 90kms from the high altitude town of Tawang in Arunachal Pradesh. It doesn't matter where you stand in or around the village, you will only see picturesque landscapes which we like to draw in our canvas or make it our desktop wallpaper.
One of the unique feature is the hours of sunshine received here. Since the village lies in a valley (called Pangchen) between two mountains, the direct sunlight received is merely 6 hours. It also forms one of the wintering locations for the black-necked crane. The dense forest in the Pangchen Valley will charm you with sounds of birds and waterfalls.
Monastery Trek
Ssshhhhh! This is the best kept secret of Tawang region. There is a captivating statue of Guru Padmasambhava visible on a nearby mountain. You can reach there by a precarious journey in an SUV. However, the real fun is to climb from Zemithang through a trail in the dense jungle. After an hour, you will pass through a tiny village called Muchat. Half hour further hike will bring you to the monastery (and the statue).
The view from the statue is beyond spectacular. In one single frame you will be able to see the three shades of mountains on opposite side. The snow capped higher altitude portion, then the rocky portion in middle and the dense green valley of Zemithang in the base. The monastery itself is an abode of peace. The combined satisfaction of peace and view will make you an enriched personality.
Reaching Zemithang
The most accessible way is the road from Tawang and passing through Lumla market. It takes 3-5 hours from Tawang. There is one more way to reach Zemithang and that passes through the Y-junction and Sangetser lake. This route is very rough and not accessible for civilians. The disputed McMahon line passes just 20 kms north of Zemithang and special permission and SUV is needed to visit there. Foreigners are not even allowed in Zemithang as per current regulations. For the people living in rest part of India, it takes minimum 2 days to reach here from the nearest civil airport i.e. Guwahati but it is all worth it.
Gorsam Chorten
There is a monastery called Gorsam Chorten, which is located 3kms before you reach Zemithang. It opens once in 7 years. It was constructed by Lama Prathar from Kharman village in Zemithang, in 13th Century A.D. It stands on 186 feet base and it is 93 feet high, modeled after Boudhinath stupa of Nepal.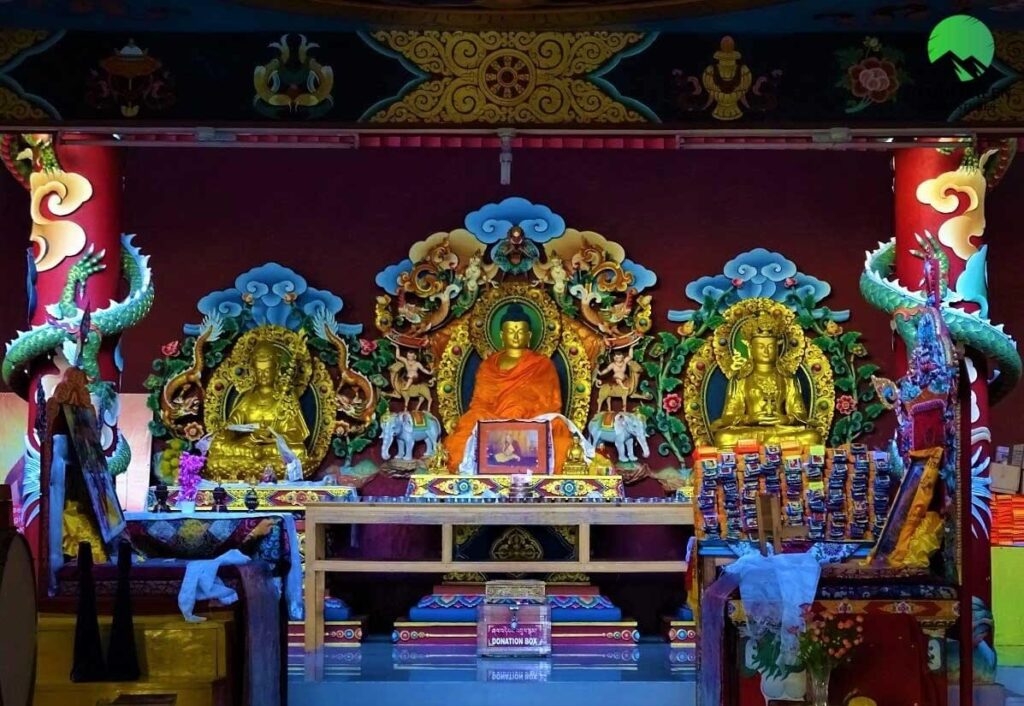 Houses:
Many houses in Zemithang remain closed as people migrate to towns temporarily. There are many few tiny villages scattered across the landscapes around Zemithang and interestingly some of them offer homestay facilities to tourists. Staying in homestay at Zemithang is an enriching experience for backpackers, but not recommended for tourists seeking tyical hotel like facilities. If you can mingle well with the locals then they won't hesitate to tell you more about the nature around and treat you with cuisines served with toppings of local butter.
There is a beautiful Inspection Bungalow, which is located right below the cliff. It is available for government officials.
Riverside:
If you are visiting Zemithang then don't forget to keep lots of spare time to do 'NOTHING' near the river bed. It might sound unbelievable but doing nothing is actually a lot of task near the enchanting and crystal clear river.
The river Nyamjang chu flowing from Shannan province of Tibet originates in the snow-clad peaks of Eastern Himalayas. The course of the river in India is through a steep gorge lined by dense mixed forest. It widens and flows below the Zemithang village. The streams of Sumta Chu and Taktsang Chu join Nyamjang Chu in this valley. Later it merges into Tawang Chu.
Waterfall
You will come across many waterfalls before reaching Zemithang and also when you are walking around. It doesn't matter which direction you choose to hike. These waterfalls look amazing and most of them flow through the dense unspoilt vegetations. Zemithang is thankfully deprived of nasty tourists and therefore you might not even find a trail to reach all the waterfalls. However, the roaring sound of water echoing in the valley will soothen your mind. If you manage to reach closer to waterfalls then the sprinkle of ice cold water will deter you to enter inside.
Things to keep in mind
There is only BSNL network in the village and that too might not work all the time.
Only one bus operates from Tawang to Zemithang. It leaves from Tawang at 12pm in afternoon and reaches Zemithang at 6pm. The same bus leaves Zemithang at 5:30 AM next morning.
Zemithang is cold and windy throughout the year. Don't get wet in the river or waterfall
For visiting Zemithang with DarkGreen Adventures, click here